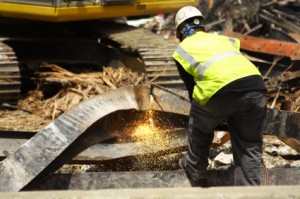 Our round-the-clock demolition capability means that we can accommodate the tightest physical time constraints.
Our highly trained workforce have years of experience demolishing multi-storey brick, concrete and steel structures, clearing sites and recycling waste material. Garvey Demolition's specialist skills and equipment mean that you can have confidence in our ability to complete even the most difficult demolition jobs.
Acting as either principle or subcontractor we have led the way in large scale demolition for many years.
Clients include Local Authorities ,National House builders, Kier Construction, Bowmer & Kirkland, Balfour Beatty, John Sisk, Lend Lease, LCP Properties & Massey Developments
Kersley PowerStation, Bolton, Lancashire, Stoke City Football Ground, Aston Manor Brewery, Sparkhill Rd tower blocks in Birmingham, St Georges Hospital Hyde Park Corner London are examples of contracts we successfully completed
With Garvey Demolition`s high calibre staff and years of experience we are able to offer the reassurance required to meet its clients' needs.
Our areas of expertise include:
Emergency work on dangerous structures
Asbestos removal
Demolition of all timber, brick, concrete and steel structures including chimneys
Partial demolition and facade retention works
Bridge Structures
High reach demolition
Bridge removal
Crane lifts
Refurbishment soft stripping
On site crushing of concrete and brick
Robotic Demolition
Site clearance and preparation
Typical projects include residential housing, former public houses, warehouses and industrial buildings, schools, mills, factories, high rise blocks, bridges and chimneys.